I was born into a Methodist family, and raised in the Methodist Church.   For many years I went to Sunday School most weekends, and many summers were partially spent in week long Bible Study Day Camps.  (We went home each day, but came back the next day.)  It was, and is, a good foundation in the Christian faith, but didn't feel right as I came into my teenage years.  I still went to Church with the parents, but inside I wasn't sure I was in the right place.  Even in high school I started looking at other faith systems through the library and friends at school that went to other Christian centric Churches and participated in other faith systems.
During this time, from my 15th Birthday (that night actually) until the night before my 18th Birthday I dreamed, EVERY NIGHT, of being clothed in a white robe with a brown hooded thing over it, and a blue belt holding it all together.  Hanging on the rope was a beaded item with a crucifix (I called it a cross in my dreams not knowing the difference), and around the neck was another, oddly (to me) shaped crucifix as well.  I can remember in this dream trying to change the "habit" as I now know it from what it was to an all back or all brown habit, with a white rope, as that was what I had seen in the movies of the time, with Friar Tuck, and others.  It never worked though, I kept coming back to that habit…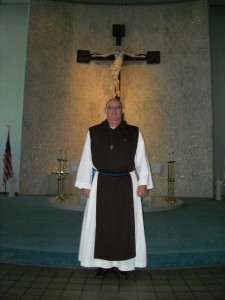 This is what I saw myself dressed as!
Related Posts
32

Yep, more changes in my life! I am in the first stages of moving fully into the life of a Diocesan Hermit.  By that I mean, I am living the Rule of life, but must live it for six month to two years under Private Vows at which time, if…

25

Over the next several posts I will be posting on Catholic Apologetics topics. What is Apologetics?  It is the giving of a reasoned explanation of ones faith, the the Churches interpretation of the Bible and tradition.  So, to that affect, I will be talking on specific topics and why the…

24

Well, for the past month and a half, I have been a bit slack on my spiritual life.  I haven't really been reading much in the way of theology or within my faith (although I have done some "recreational" reading), and I have missed more of my prayer hours that…

24

A few months ago I acquired a "basic" Catholic Package on the Logos 4.x platform that I thought was outstanding.  The Logos software allows you do do some pretty extensive searching on your digital library, which is highly index, allows you to compare Bible versus between translations, read whole books…

19

When I was about 5 years old, while sitting in the back of the car, my dad drove by a Knights of Columbus Hall on it with a big colorful shield on it.  I asked my dad about it, and his comments were along the lines of "Oh, that is…