When I was about 5 years old, while sitting in the back of the car, my dad drove by a Knights of Columbus Hall on it with a big colorful shield on it.  I asked my dad about it, and his comments were along the lines of "Oh, that is a Catholic Men's group, kinda like the Masons."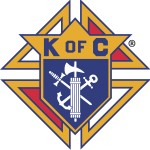 In my mind I said "I will be able to go in there some day.  From that day forward every time I passed one of those Halls, I would think, some day I would be going in there.  For a while, not too long ago, and before I started looking at my faith even deeper, I lived with my sister in Maryland, and not too far was a Knights Hall.  I told myself specifically that one day I would be able to go into THAT Hall…
That said, at the time my family was Methodist and didn't have a good thought about Catholics, not that I knew the difference at the time.
As I finished high school, I joined the Army and went off on my own to face the world, and for several months did not go to Church, except at Basic, just for the break.  After all my training I was initially assigned to Germany, were a few months after I got there, I was assigned a new room mate, Charlie, who was Native American, of the Mescalero tribe of the Apache Nation.  We became good friends and I liked what I saw in him.  Due to a family death, his father, he returned to the States after only a few months however.
When I left Germany, I had a short layover in El Paso Texas, which I still kinda call home, why who knows, and while there, Charlie showed up on my door step and asked if I would come to the Reservation with him.  I did, and ended up spending my entire leave time up there.
Stay tuned for part three! 😉
In Christ!
Related Posts
28

During this time spent on the Reservation, I spent a lot of time with the Shaman of the Tribe.  I asked a LOT of questions about faith, the Earth, God, and life in general, many of which I had my answers to, but wanted confirmation or contradiction to my thoughts. …

24

Over the next several posts I will be posting on Catholic Apologetics topics. What is Apologetics?  It is the giving of a reasoned explanation of ones faith, the the Churches interpretation of the Bible and tradition.  So, to that affect, I will be talking on specific topics and why the…

23

At  the Saturday Easter Vigil before Easter of 2008 I was accepted into the Catholic Church.  This was a happy day for me, with my Superior General there as my Sponsor into the Church, my mother, father, sister and niece all present to watch me enter into the Church. This…

22

Yep, more changes in my life! I am in the first stages of moving fully into the life of a Diocesan Hermit.  By that I mean, I am living the Rule of life, but must live it for six month to two years under Private Vows at which time, if…

20

Over the past few years, I have heard a lot of bad mouthing the Pope of the Catholic Church, from outside the Church and unfortunately from the inside of the Church, even from Bishops and Cardinals of the Church. While I don't always agree with the Pope's comments, I do…