Yep, I missed blogging…  I know I didn't blog as often as I should have been, and I didn't say much when I did blog, but I missed it!!
Entries might be infrequent again, as I am now back in college, going for a Bachelors and then a Masters in Theology, but that may add fodder to the postings as well, which may be good!
I have been living out in the country for the past nine months and am loving it out here.  One down side of living out here, which is actually a good side is my cell phone doesn't work out here, so I only have a "land line".  I put "land line" in quotes, as it is actually a VoIP phone and not your typical land line.  The fifteenish acres I live on is quite, and pretty.  I get visited by deer and many other animals, including all the neighbor dogs.  I do have a house mate, Tiggr the cat:
(I am in blue jeans as it was laundry day when I took this picture.)  Tiggr likes sleeping/lying between my legs when I'm on my recliner reading.  She was giving herself a bath when I took this picture and looked up to "smile for the camera".
Oh, and I now have a beard, and no hair on top of the head!! 🙂 :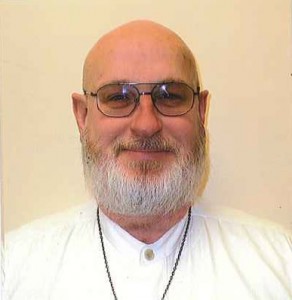 Although it is longer and fuller than that now. 🙂
Anyway, prayfully there will be more frequent updates from here on out!
In Christ,
Brother Don
Related Posts
57

Hello Folks! So, I am back!!  It has been a fast and busy eight months since this board was up and since I was active on the blog.  The reason for this is adjusting to my new life and getting things in order.  I think I am there now. I…

15

Please welcome Mica, pronounced MeCa to the hermitage: Mica is a Belgian Malinois, German Shepard mix.  Mom is a Belgian Malinois bomb dog for a police department, and pop was a German Shepard that jumped the fence and had fun. She was sold to a lady that didn't know how…

15

Well, Mica and Tiggr aren't getting along too well yet.  They are still hissing (Tiggr) and barking at each other every chance they get.  I think Mica just wants to play, but Tiggr is coming out with claws and teeth full of hissing!  Scaring pour Mica near to death! Been…

11

After a just under two year sabbatical, I am bringing back up "Don and His Spiritual Journey". My status update in life, and first new religious post will begin tomorrow, the 22nd of June 2017, and I hope frequently as time allows! This past two years of silence has been…

10

After more thought and direction changes, I have locked down the access to the Photo Gallery I have here requiring an user name/password combo to get to it. If you are a family member or friend and want access to it, let me know in a comment here or via…