During the year 2008, our supervising Bishop retired due to health, and shortly after that, our Superior General left the Order for some reason.  In the process, the newly selected Superior General moved the Order to Ft. Lauderdale Florida.  A few months later, he petitioned the Archbishop of Miami, our new local See, to be our Supervising Bishop.  Several months later, in early 2009, the Archbishop of Miami shut the Order down on grounds that it was not set up correctly 13 years earlier, that it had not had correct supervision during that time, and therefore the vows given were not valid.  We had 24 hours to move out and turn everything over to the Church or other Non-Profit organization per our Rule of Life.  (I want to add here that he was 100% correct on the past of the Order, but I'm not sure he did the right thing in shutting us down, instead of allowing us to get back within Canon and working with us to get things right.)
I began looking for other Religious Orders to join, but was universally told that I was too old, being over 40, inching VERY close to 50 (turn 50 this month, as I type this!).  I was tentatively accepted to one Order and went to a Silent Retreat in preparation for being accepted, but in the middle of it, I was told that I would not be accepted due to age again.
One thing led to another and I ended up moving to Kentucky, continuing to study the Bible, the Catholic Faith, and learning all I can about God and His requirements on us.
After much prayer, and much reading and even more prayer, I very much feel the call to Religious Life, and have decided to follow the path of one of my Patron Saints, Saint Francis of Assisi, and have started a new Order, The Order of Brothers of Reconciliation, that will allow any male, 18 and older, in communion with the Holy Roman Catholic Church, and of sufficient health, mental capacity, and abilities to become a Religious into the Order.  Age is not to be a discriminating factor, only being in communion with the Church, the Canon of the church, and health, both physical and mental, will be considered.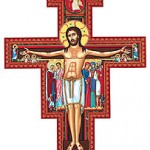 In Christ!
Related Posts
42

When I got home, I looked up the Order, which had been "raised" about 9 or so years earlier.  It was small, and consisted of Lay Brothers and Sisters and was newly starting to have Religious Brothers.  All lived withing the vows of Poverty, Obedience, and Chastity to Station in…

39

Yep, more changes in my life! I am in the first stages of moving fully into the life of a Diocesan Hermit.  By that I mean, I am living the Rule of life, but must live it for six month to two years under Private Vows at which time, if…

33

Hello Brothers in Christ (and Sisters who know of Brothers looking  a life dedicated to Christ!), The Order of Brothers of Reconciliation is "open for business" and actively accepting Postulates who are looking to find an Order that will allow them to follow the footsteps of Christ through striving for…

32

One of the issues I had early on in life and most Protestants still have is the perceived way the Catholics deal with Saints.  Early on, this was a factor for me that kept me away from the Catholic Church and from looking at it seriously.  I felt that instead…

31

Well, let me rephrase that last post.  Religious life isn't over for me.  I have continued to do the Liturgy of the Hours (LOTH) (7 set prayer times a day, following a set rubrics) at least the four major Hours, and often all seven.  I still read the Bible daily,…